on 13 May 2019
ABR-Streaming, HLS, JMETER, LOAD_TESTING, MPEG-DASH, OTT, PERFORMANCE, PRODUCTIVITY, SMOOTH Streaming, TUNING, VIDEO
and Tags: APPLE HLS, LOADTEST, MICROSOFT SMOOTH STREAMING, MPEG DASH, NABSHOW, OTT, PERFORMANCE, Video Streaming
with 0 comments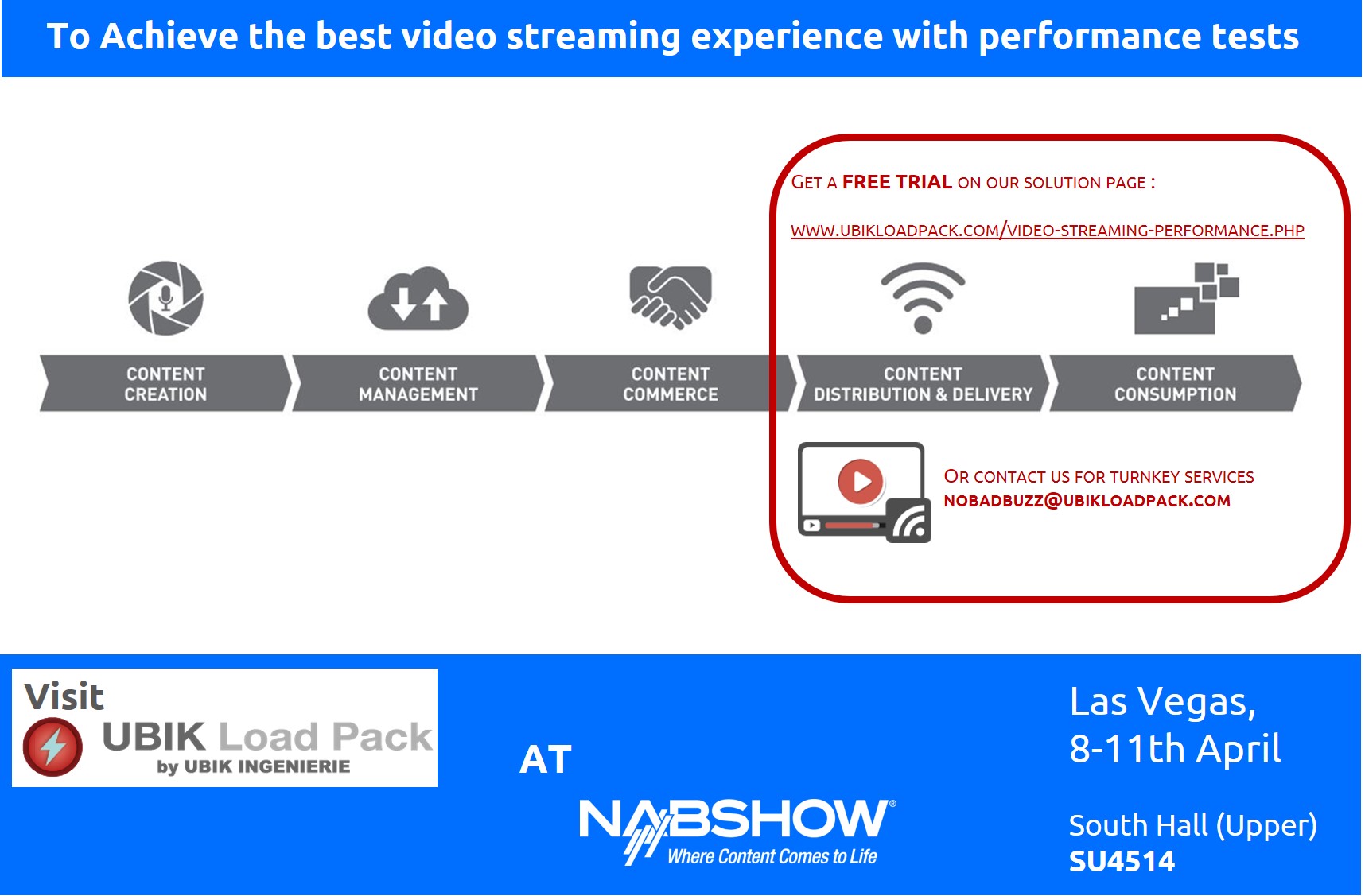 From April 8 until 11, 2019, NAB Show, was held in Las Vegas, NV, USA. It is the world's largest convention encompassing the convergence of media, entertainment and technology with more than 90,000 attendees from 160 countries and 1,600+ exhibitors.
UBIK Load Pack was present to showcase its innovative load testing tool, services and share best practices in load testing streaming contents.
Ubik Load Pack team provides realistic and scalable performance testing for servers delivering Apple's HTTP Live (HLS), MPEG-DASH, Microsoft Smooth (HSS) and Adobe HDS streaming formats.
This pack helps increasing users' productivity thanks to production-proven tools, adapted in various environment, at worldwide-scale companies.
It has already seduced many customers over 5 continents.
Moreover, it enables to test performances of most popular video streaming protocols.
Available on-premise or from the cloud, this solution help you offer to your users the best video streaming quality (no lags, accuracy of stream, no delay) as well as check CDN caching policies.
We also offer turnkey professional services, consulting and training.
To READ more about load testing streaming contents on our blog:
About us: